Adrenaline - Chainsaw promo card

Buy game, get promo
Get a free promo with purchase of selected games.

Hard to find games
We offer games that may be difficult to find elsewhere.

Local manufacturing
We manufacture our games and most of the components in the Czech Republic.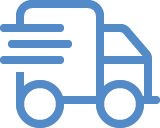 Shipping from CZ
We are currently shipping from
the Czech Republic.
Related products
Product detailed description
An entirely new weapon for brutalizing opponents at very close range.
It was later available in a pack of promos for backing the Game Boy Geek 2017 Kickstarter campaign.